Function Rooms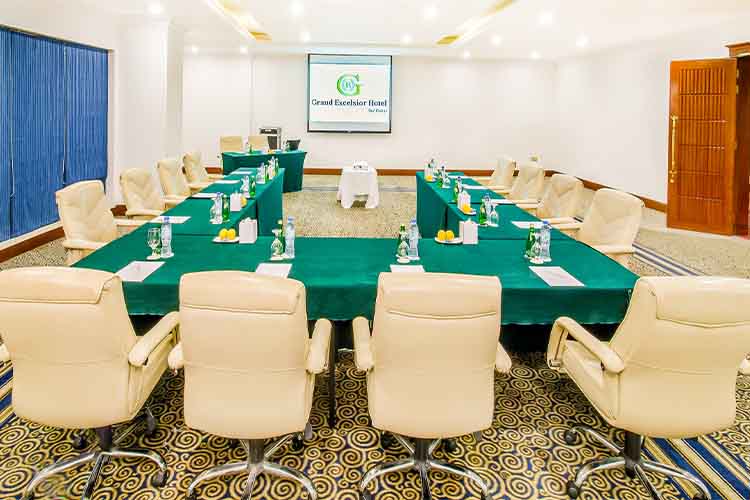 The Grand Excelsior Hotel's downtown location make it an ideal choice for event organizers planning a business meeting or social occasion. From an intimate board meeting to a cocktail reception the hotel has the perfect space to suit every size and requirement.
An outdoor terrace and hotel poolside also offer opportunities for hosting events in the warm Dubai climate, and our team can provide outdoor catering at a venue of your choice.
Three additional meeting rooms provide additional venues for meeting and event planners. Every meeting room enjoys natural daylight along with a range of audio-visual equipment, secretarial services and wireless internet access.
What We Offer?
Gala Dinner Event
Wedding Reception
Big Conference
Birthday Celebration
Product launch
Corporate Events
Seminars
Company Party
Company Assembly
Company Christmas/New Year Party
Our Function Room Setup
| | | | | | | | | | | | | |
| --- | --- | --- | --- | --- | --- | --- | --- | --- | --- | --- | --- | --- |
| | | Area | Length | Width | Ceiling Height | | | | Set up Capacity | | | |
| | Meeting Halls | Sq M | M | M | M | U-Shape | Classroom | Cabaret Round of 6 | Theatre | Boardroom | Banquet Round of 10 | Reception |
| 1 | Sand | 114 | 11.2 | 9.95 | 2.5 | 25 | 35 | 30 | 70 | 20 | 40 | 40 |
| 2 | Sun | 145 | 18.2 | 8.55 | 2.5 | 30 | 40 | 42 | 100 | 26 | 50 | 60 |
| 3 | Sea | 175 | 16.1 | 10.5 | 2.5 | 35 | 50 | 54 | 130 | 36 | 70 | 70 |
| 4 | Dhow Ballroom | 1395 | | | 2.5 | | | | | | | |
| 5 | Ballroom A | 83 | 8 | 10.3 | 2.5 | 15 | 24 | 18 | 40 | 15 | 30 | 15 |
| 6 | Ballroom B | 163 | 15.84 | 10.3 | 2.5 | 40 | 70 | 80 | 150 | 40 | 120 | 100 |
| 7 | Ballroom C | 220 | 21.41 | 10.3 | 2.5 | 40 | 70 | 80 | 150 | 40 | 120 | 100 |
| 8 | Ballroom D | 210 | 21.41 | 9.73 | 2.5 | 40 | 70 | 80 | 150 | 40 | 120 | 100 |
| 9 | Ballroom E | 155 | 15.84 | 9.73 | 2.5 | 40 | 70 | 80 | 150 | 40 | 120 | 100 |
| 10 | Ballroom F | 78 | 8 | 9.73 | 2.5 | 15 | 24 | 18 | 40 | 15 | 30 | 15 |
| 11 | Ballroom ABC | 466 | 45.25 | 10.3 | 2.5 | 90 | 200 | 240 | 550 | | 250 | 400 |
| 12 | Ballroom DEF | 441 | 45.25 | 9.73 | 2.5 | 90 | 200 | 240 | 550 | | 250 | 400 |
Discover More